Australian Indigenous Art Trade Association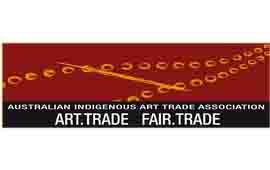 AIATA  - What do we do ?
The association provides information to members and advocates the views of members to government, industry and the media. The association was formed in 1998 following a meeting of representatives from many different industry groups across the country. The aim was to build a truly national organisation with strong code of ethics.
The purposes of AIATA in our consitution include:
To foster a commitment to excellence in product, presentation and service in the sale of Indigenous artworks throughout Australia and overseas.
To foster comsumer cofidence in those dealing in Australian Indigenous arts and craft.
To promote honesty and integrity in dealings between the public, museums, Indigenous artists, their representatives and dealing in Indigenous art.
To develop, promote and uphols the Code of Ethics of the Association.
To enhance the professional standing of the Members by compelling observance of strict rules of conduct and by requiring a high standard of knowledge of Indigenous art, as a condition of membership.
Sabine Haider, the director of Central Art - Aboriginal Art Store is the President of AIATA, please contact her if you are considering joining the association.