Goanna Dreaming
by Angelo Burgoyne Judda
This artwork depicts two goannas at a waterhole. Other Aboriginal symbols illustrated are rockholes (circles) and sand hill (curved line)
The Goanna has a prominent place in Australian Aboriginal Culture, which includes totemic relationships, anthropomorphic representations in Dreamtime stories, and as a food source. Representations of goannas are common in Aboriginal paintings, not just as bush tucker, but also as a symbolic spiritual motif.
Artist
I (Sabine Haider, Director Central Art) began working with Angelo in May 2007 when visited my gallery when he shortly after he arrived in Alice Springs. Over the years I have worked with Angelo on multiple occasions and his artworks have been extremely popular contemporary pieces.
Angelo was born in 1970 at Cummins located on the Lower Eyre Peninsula in South Australia. His family have links to part of the Stolen Generation; this is an important story for Angelo as well as his connection with his traditional homelands. Angelo is part of the Kookatha tribe. He began painting in 2000 and his paintings depict hunting and gathering scenes and he shares that his paintings demonstrate how his tribe used to go on walkabout after the rain fall to gather food. His most popular artworks titled "Rain in the Desert" depict mountain ranges in the Anangu Pitjantjatjara Yankunytjatjara (APY) Lands during rain fall with depictions of the water flowing through the valley, these artworks are bold and masculine, with thick black lines against often differing colourful backgrounds.
Angelo lives in Alice Springs with his wife and children. His wife, Marie Napurrula is also a local artist in Alice Springs. Initially a shy man I have watched Angelo grow into an independent artist with a clear vision. He has taken ownership over his artworks and is not afraid to try new things. I have had the honour of watching and supporting Angelo grow into a self-determined artist. His work is extremely popular and affordable and can easily be found around Alice Springs in local galleries as well as many sales interstate and overseas. 
In 2009 Central Art held an online exhibition titled "Self Representing Artists" in which Angelo Burgoyne was a key feature.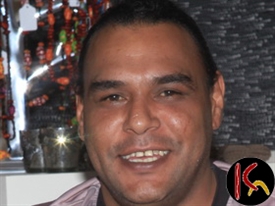 + Read more about artist
Certificate of Provenance
An Australian Aboriginal artwork should always be issued with a Certificate of Provenance, also known as a Certificate of Authenticity. This document contains vital information on the artist, as well as details about the artwork itself. When selling on an artwork, please ensure that this document is passed on. Authenticity of Provenance means that the origin or authorship of a work of art has been correctly identified.
Central Art follows a well defined provenance and authenticity process to ensure that we are an exemplar in our business practice . Careful and detailed documentation follows - each work is given a catalogue number, inscribed on the back of the artwork with the Central Art stamped logo, the artist's signature and the title of the work.
+ Read more about certificate

Related Aboriginal Artwork
TITLE: Men Dancing

ID: 10102264
Medium: Acrylic on Canvas
Size: 69 x 31 cm
Region: Alice Springs, Central Australia
Artist: Angelo Burgoyne Judda

View

TITLE: Rain in the Desert

ID: 09081756
Medium: Acrylic on Canvas
Size: 140 x 63 cm
Region: Alice Springs, Central Australia
Artist: Angelo Burgoyne Judda

View

New

TITLE: Kangaroo Tracks

ID: 15032600
Medium: Acrylic on Canvas
Size: 31 x 31 cm
Region: Alice Springs, Central Australia
Artist: Angelo Burgoyne Judda

View
View
View more artworks by this artist
Aboriginal Culture Articles
of interest
Related Search Tags