Perentie
by Bevan Tjampitjimpa
Perentie or Goannas have a prominent place in the culture of Aboriginal Culture. This includes totemic relationships, anthropomorphic representations in Dreamtime stories, and as a food source. The other symbols depicted in this artwork represent sand-hills.
The Arrernte people from Central Australia call the perentie Kere atyunpe.
Artist
I (Sabine Haider, Director of Central Art) have been working with Bevan Tjampitjinpa since 2007. Bevan was born in 1980 in Darwin in the Northern Territory however he grew up regularly visiting his traditional homeland of Ti Tree, which is approximately 200km north of Alice Springs. After finishing school in Darwin he decided to return more permanently to Central Australia and relocated in Ti Tree. Ti Tree or the Aboriginal name - Pmara Jutunta is his grandparents and mothers country and upon his return he was surrounded by extended family members.
Bevan had always had a keen interest in his culture and the traditional ways of hunting. He was also keen to learn how to paint and wanted to learn the art of traditional symbol depiction. Under the guidance of his elders he was taught traditional cultural activities and participated in an initiation ceremony. Once he was initiated he was taught the laws of the desert region and participated in other ceremonies. Bevan speaks fluent Anmatyerre and now has an understanding of traditional law and how to hunt for bush tucker and animals. He is also permitted to use traditional iconography in his art.
For 10 years Bevan studied under his elders, specifically, Peggy Nungulla Reily, Beryl Pultara, Barbara Leo, Judith Ross, Tommy Mbitjana and Mark Cook. His training included learning a number of techniques in art and included Dream-time symbolism and how to interpret various landscape features into a canvas. He was also taught how to make hunting implements such as spears, shields and nulla nulla's (fighting sticks). These tools are important parts of the hunting stories that he portrays in his art. The traditional aboriginal symbols reflect the men's hunting forays and the women's expeditions gathering bush tucker. Bevan is able to depict these activities as he has been involved in both men and women's food collection throughout his time residing in Ti Tree. His stories tell of how his family and clan continue to practice traditional cultural activities in a modern era.
Bevan was also encouraged to experiment with both brush and stick to produce traditional aboriginal art. Bevan explains that this took a number of years to perfect. It wasn't until 2001 that Bevan began to establish himself as an artist and Central Art is proud to say that it was one of the first galleries to support him as an emerging artist. Central Art included Bevan in a group exhibition in 2008 with all of his included pieces selling extremely well.   Bevan's art is very affordable and provides art lovers with an opportunity to own an important depiction of Aboriginal art and culture. His paintings have been well received with many being sold around Australia and internationally. I continue to enjoy working with Bevan and hope to continue our working relationship well into the future.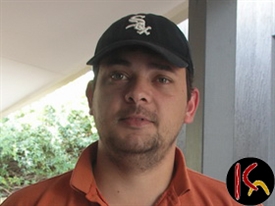 + Read more about artist
Certificate of Provenance
An Australian Aboriginal artwork should always be issued with a Certificate of Provenance, also known as a Certificate of Authenticity. This document contains vital information on the artist, as well as details about the artwork itself. When selling on an artwork, please ensure that this document is passed on. Authenticity of Provenance means that the origin or authorship of a work of art has been correctly identified.
Central Art follows a well defined provenance and authenticity process to ensure that we are an exemplar in our business practice . Careful and detailed documentation follows - each work is given a catalogue number, inscribed on the back of the artwork with the Central Art stamped logo, the artist's signature and the title of the work.
+ Read more about certificate

Related Aboriginal Artwork
TITLE: Emu Hunting

ID: 12022454
Medium: Acrylic on Canvas
Size: 43 x 27 cm
Region: Ti Tree, Central Australia
Artist: Bevan Tjampitjimpa

View

TITLE: Ceremonial Grounds

ID: 12022467
Medium: Acrylic on Canvas
Size: 118 x 39 cm
Region: Ti Tree, Central Australia
Artist: Bevan Tjampitjimpa

View

New

TITLE: Rockholes

ID: EJN160
Medium: Acrylic on Belgian Linen
Size: 50 x 20 cm
Region: Kintore, Western Desert
Artist: Edith Jackson Nampitjinpa

View
View
View more artworks by this artist
Aboriginal Culture Articles
of interest
Related Search Tags