Sand Hills
by Dorothy Napangardi
The painting depicts the movement of the Mina Mina women ancestors as they journeyed across salt Lake Mackay, a significant site near Yuendumu in Central Australia. Throughout their travels the Warlpiri women used digging sticks during their ceremonies, as well as gathering bush tucker.
We recommended the book, DANCING UP COUNTRY, The Art of Dorothy Napangardi, published by Museum of Contemporary Art, which illustrates in detail Dorothy Napangardi's Dreamings.
Artist
Dorothy Napangardi (born circa 1952 or 1956 is a distinguished contemporary Indigenous Australian artist from Mina Mina. She is one of around 3,000 Warlpiri speakers who live in or are originally from the Tanami Desert region of Central Australia.
Dorothy Napangardi grew up in the settlement town of Yuendumu, where her father is still a senior lawgiver. She had little formal schooling, but was instructed in the historic Dreaming of her people. 'Dreaming' is an imprecise English translation of the Warlpiri word 'Jukurrpa', which describes the origins and journeys of ancestral beings in the land, and identifies the sacred places where the spirits reside.
The Jukurrpa theme, generally, is one of the inseparability of the self from the environment and usually includes travelling across the land. These are notions than can also be found in Napangardi's art, with its profusion of intersecting lines suggesting spiritual meaning and evocative depth. In the words of a Warlpiri speaker quoted in a catalogue of Napangardi's work: "To me, Dorothy's work is like Yapa (people) running through and across their country, moving across their pathways when they go travelling."
A highly informative catalogue, 'Dancing Up Country. The Art of Dorothy Napangardi', was published in 2002 in conjunction with a major exhibition of her paintings at the Museum of Contemporary Art, Sydney. In it, Aboriginal art expert Christine Nicholls writes that "Dorothy Napangardi's success as an artist lies in her ability to evoke a strong sense of movement on her canvases, an effect she achieves because of her remarkable spatial sense and compositional ability. Her work can be appreciated on multiple levels", though indigenous commentators tend to see painting as "a stage for human activity, rather than seeing the geometric aspects of the work."
In 2001 Napangardi won ?rst prize in the 18th National Aboriginal & Torres Strait Islander Art Award for her work Salt on Mina Mina, after winning lesser prizes in the same festival in 1991 and 1999. Dorothy Napangardi was represented and nurtured by Gallery Gondwana in Alice Springs until 2010.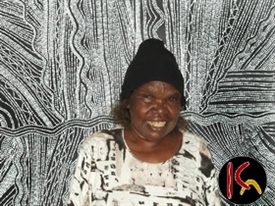 + Read more about artist
Certificate of Provenance
An Australian Aboriginal artwork should always be issued with a Certificate of Provenance, also known as a Certificate of Authenticity. This document contains vital information on the artist, as well as details about the artwork itself. When selling on an artwork, please ensure that this document is passed on. Authenticity of Provenance means that the origin or authorship of a work of art has been correctly identified.
Central Art follows a well defined provenance and authenticity process to ensure that we are an exemplar in our business practice . Careful and detailed documentation follows - each work is given a catalogue number, inscribed on the back of the artwork with the Central Art stamped logo, the artist's signature and the title of the work.
+ Read more about certificate

Related Aboriginal Artwork
TITLE: Salt on Mina Mina

ID: 09111989
Medium: Acrylic on Belgian Linen
Size: 90 x 30 cm
Region: Yuendumu, Central Australia
Artist: Dorothy Napangardi

View

TITLE: Salt on Mina Mina

ID: 09031565
Medium: Acrylic on Belgian Linen
Size: 127 x 98 cm
Region: Yuendumu, Central Australia
Artist: Dorothy Napangardi

View

TITLE: Mina-Mina 2005

ID: 0504257
Medium: Acrylic on Canvas
Size: 120 x 90 cm
Region: Yuendumu, Central Australia
Artist: Dorothy Napangardi

View
View
View more artworks by this artist
Aboriginal Culture Articles
of interest
Related Search Tags