Rock Spirits
by Edward Blitner
The painting depicts rock spirits (Mimi spirits) illustrated in a cross-hatching art style.(cross-hatching is where diagonal lines are drawn close together to create shadow or depth).
The Mimi's are tall, thin beings that live in the rocky escarpment of northern Australia as spirits. Before the coming of Aboriginal people they had human forms. Mimi Spirits are generally harmless but on occasions can be mischievous.
When Aboriginal people first came to northern Australia, the Mimi taught them how to hunt and cook kangaroos and other animals. They also did the first rock paintings and taught Aboriginal people how to paint.
Artist
Edward Blitner was born on the 24th December 1961. Edward Blitner is from the Ngukkurr Community (now called Yugul Mangl) in Naijarlindji country on the Roper River, approx. 270km south-east off Katherine in the Northern Territory. Edward attended school at Concordia College in Adelaide until he was sixteen year old. As a young man he worked as a stock-man and farmhand.
Edward started painting when he was seven years old. Edward (Eddie) learned painting from his grandfather who painted on bark with natural ochre and while working on a particular painting, he recounted the Dreaming stories and taught the children appropriate songs and dance cycles.
"My grandfather would be painting on bark and we kids would sit around him and watch him grind the ochre's and mix the colours, after a while he would tell us the story for that particular painting and also teach us the songs and dance for that story. When he was in a very good mood, he let us paint the sides of the bark painting, that was my start."
It has taken Edward (Eddie) many years to learn to paint the stories and the Dreamings past on to him by his grandfather. Edward is also a accomplished woodcarver. Some of Eddy's bird carvings stand 2 meters high and are fully decorated and cross hatched (rrarrk). The detailed cross hatching shown in Edward's paintings and carvings, is the artist's family body design and is sacred to his clan.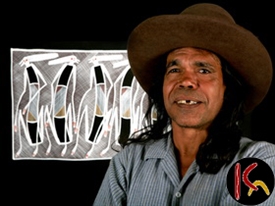 + Read more about artist
Certificate of Provenance
An Australian Aboriginal artwork should always be issued with a Certificate of Provenance, also known as a Certificate of Authenticity. This document contains vital information on the artist, as well as details about the artwork itself. When selling on an artwork, please ensure that this document is passed on. Authenticity of Provenance means that the origin or authorship of a work of art has been correctly identified.
Central Art follows a well defined provenance and authenticity process to ensure that we are an exemplar in our business practice . Careful and detailed documentation follows - each work is given a catalogue number, inscribed on the back of the artwork with the Central Art stamped logo, the artist's signature and the title of the work.
+ Read more about certificate

Related Aboriginal Artwork
New

TITLE: Mimi Spirits

ID: 13042484
Medium: Acrylic on Canvas
Size: 60 x 160 cm
Region: Katherine, Northern Territory
Artist: Edward Blitner

View

New

TITLE: Spirits of the Dreaming

ID: 13042491
Medium: Acrylic on Canvas
Size: 48 x 112 cm
Region: Katherine, Northern Territory
Artist: Edward Blitner

View

New

TITLE: Rainbow & Lightning Spirits

ID: 13042492
Medium: Acrylic on Canvas
Size: 45 x 115 cm
Region: Katherine, Northern Territory
Artist: Edward Blitner

View
View
View more artworks by this artist
Aboriginal Culture Articles
of interest
Related Search Tags