Bush Turkey Dreaming
by Genevieve Loy Kemarre
The painting represents the Dreamtime story of the bush turkey ancestor. The bush turkey in search of food, roams the land leaving behind its tracks throughout Atnwengerrp - the artists homeland of Utopia in Central Australia.
The bush turkey is significant to Aboriginal people who share custodianship of this Dreaming and is re- enacted during their ceremonies.
(Genevieve shares custodianship of this Dreaming with her father Cowboy Louie Pwerle)
Artist
Genevieve Loy Kemarre was born in 1982 and is from Utopia in Central Australia. Her language group is Alyawarre. Genevieve is the daughter of Cowboy Loy Pwerle a talented and well known Utopian artist, and Carol Kunoth Kngwarreye, whose mother was Nancy Kunoth Petyarre (who sadly passed away in 2010. Her maternal grandmother, Nancy, was one of the famed and widely recognised Petyarre sisters from Utopia. Genevieve is also related to Abie Loy Kemarre a talented and exciting emerging artist. Through her family Genevieve has been given guidance and support for her painting, learning her Dreamings as part of her cultural obligations as well as the skill for art depict on modern mediums.
I (Sabine Haider, Director of Central Art), first met Genevieve in 2009. She shared the stories of her artworks and where they originate from. Her paintings depict her father's country which lies on the western side of the Sandover River on Utopia Station. Her Dreaming is the Bush Turkey which she shares the custodianship for with her father. The Bush Turkey is a significant Dreaming for Aboriginal people, particularly those who are responsible for its stories, it is often re-enacted during ceremonies. I am very fond of Genevieve and would like to see her flourish as an emerging artist. She is already on her way to becoming another distinguished artist from Utopia.
While Cowboy Loy Pwerle often depicts the nesting place of the Bush Turkey, Genevieve depicts the tracks of the Bush Turkey as it searches for seeds and other bush tucker whilst making its way to the waterhole. In the two artworks that Central Art has the tracks of the Bush Turkey are made as it roams Antwengerrp country near Utopia in Central Australia. The paintings represent the ceremonies performed as part of the Dreaming. Whilst both paintings are vastly different in their design they tell the same story and technique.
Over the last few years Genevieve's paintings have been included in group exhibitions in New South Wales and Western Australia. She is still learning and developing her painting skills and continues to learn and be responsible for her cultural knowledge and obligations. Her artworks are affordable and a worthy purchase for anyone who appreciates the story and significance of the Bush Turkey and the aesthetics of her artworks.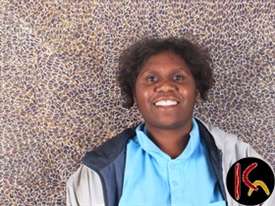 + Read more about artist
Certificate of Provenance
An Australian Aboriginal artwork should always be issued with a Certificate of Provenance, also known as a Certificate of Authenticity. This document contains vital information on the artist, as well as details about the artwork itself. When selling on an artwork, please ensure that this document is passed on. Authenticity of Provenance means that the origin or authorship of a work of art has been correctly identified.
Central Art follows a well defined provenance and authenticity process to ensure that we are an exemplar in our business practice . Careful and detailed documentation follows - each work is given a catalogue number, inscribed on the back of the artwork with the Central Art stamped logo, the artist's signature and the title of the work.
+ Read more about certificate

Related Aboriginal Artwork
TITLE: Bush Turkey Dreaming

ID: 09021525
Medium: Acrylic on Belgian Linen
Size: 117 x 90 cm
Region: Utopia, Central Australia
Artist: Genevieve Loy Kemarre

View

TITLE: Awelye

ID: 0891229
Medium: Acrylic on Belgian Linen
Size: 59 x 56 cm
Region: Santa Teresa, Central Australia
Artist: Colleen Wallace Nungari

View

TITLE: Grass Seeds

ID: 10062191
Medium: Acrylic on Belgian Linen
Size: 58 x 58 cm
Region: Utopia, Central Australia
Artist: Barbara Weir

View
View
View more artworks by this artist
Aboriginal Culture Articles
of interest
Related Search Tags