Bush Medicine Dreaming
by Gloria Petyarre
The painting depicts particular leaves from plant species, which contain medicinal properties. The Aboriginal women from Utopia in Central Australia gather the leaves. The leaves are boiled, resin is added and mixed into a paste, which is used as bush medicine for many ailments.
The Bush Medicine Dreaming is celebrated in their Awelye ceremonies.
Artist
Gloria Tamerre Petyarre was born in c. 1945, Atnangkere Soakage in central Australia. Gloria Petyarre is a significant figure in contemporary Indigenous Australian art from the Utopia region.
Gloria Petyarre won Australia's longest running art prize, the Wynne Prize in 1999 with Leaves, being the first Aboriginal person to win one of the Art Gallery of New South Wales major prizes. She travelled to Ireland, England and India in 1990 as part of the Utopia – A picture story exhibition. She held her first solo exhibition in 1991. She is represented in major Australian galleries such as the National Gallery of Australia. She is the niece of Emily Kngwarreye and the younger sister of Kathleen Petyarre, two noted Aboriginal artists.
Gloria lived at the Utopia community after 1977, where she started batik painting, exhibiting in shows around Australia for ten years. She began work on the 'Summer Project' in 1989 which involved translating the batik paintings onto canvas. She was one of the founding members of this Utopia Women's Batik Group. She paints several Dreamtime stories such as Pencil Yam, Bean, Emu and Mountain Devil Lizard and Small Brown Grass. Her paintings – monochromatic or multi-coloured - are distinguishable for their well defined segments filled with curved lines, and evoke a strong rhythmic quality. Her style has evolved into abstract fields that represent leaves, grasses and body paint.
In 1995/96, she received a Full Fellowship Grant from the Aboriginal and Torres Strait Islander Board of The Australia Council. In 1999, Gloria Petyarre was awarded the prestigious Wynne Prize for a Landscape Painting.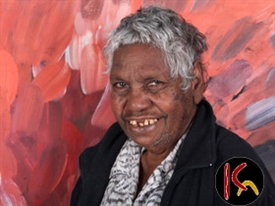 + Read more about artist
Certificate of Provenance
An Australian Aboriginal artwork should always be issued with a Certificate of Provenance, also known as a Certificate of Authenticity. This document contains vital information on the artist, as well as details about the artwork itself. When selling on an artwork, please ensure that this document is passed on. Authenticity of Provenance means that the origin or authorship of a work of art has been correctly identified.
Central Art follows a well defined provenance and authenticity process to ensure that we are an exemplar in our business practice . Careful and detailed documentation follows - each work is given a catalogue number, inscribed on the back of the artwork with the Central Art stamped logo, the artist's signature and the title of the work.
+ Read more about certificate

Related Aboriginal Artwork
New

TITLE: Mountain Devil Lizard

ID: 13072520
Medium: Acrylic on Canvas
Size: 30 x 30 cm
Region: Utopia, Central Australia
Artist: Gloria Petyarre

View

TITLE: Mountain Devil Lizard Dreaming

ID: 0412210
Medium: Acrylic on Belgian Linen
Size: 120 x 90 cm
Region: Utopia, Central Australia
Artist: Gloria Petyarre

View

TITLE: Bush Medicine Dreaming

ID: 09061662
Medium: Acrylic on Belgian Linen
Size: 193 x 120 cm
Region: Utopia, Central Australia
Artist: Gloria Petyarre

View
View
View more artworks by this artist
Aboriginal Culture Articles
of interest
Related Search Tags