Underground Water
by Janet Long Nakamarra
The lines depicted in this artwork represents the underground flowing water at a Warntaparri, which is a significant place for Warlpiri people in central Australia. It is at this place where ceremonies are performed. They paint their bodies with white ochre and sit singing to invoke the ancestral beings to ensure rain.
The roundels represent the soakages and as each one would dry up the Warlpiri people moved on to another soakage, before digging a hole and covering it with leaves. Overnight the water would settle clear enough to drink.
Ngapa is referred to by the Warlpiri people rain or water
Artist
Janet Long Nakamarra was born in 1960 at Anninie in the traditional land of her people, Warntaparri. She lived a traditional life with her family and her Aunts May and Molly Napurulla showing her how to paint the traditional body paint designs for her Warntaparri Dreaming.
Through hard work and study, Janet gained the status of Linguist with her people and began to teach as a literacy worker at the Willowra School. She produced bi-lingual literature for use in the teaching programme. Although she has lived all her life in Willowra her linguist talents led her to many contacts with the rest of Australia. When Vivien Johnson began to write her book "Aboriginal Artists of the Western Desert" it was Janet she approached to do the transaction and correct any terms that were in the book.
In 1989 she began to paint her designs and Dreamings on small boards when the local store at Willowra began supplying canvas and paints to the locals Aboriginal Artists. When her brother Malcolm Jagamarra saw her taking an interest in painting he taught her how to use the medium of acrylics on canvas. She saw this as a way of teaching people about her culture and the world as a whole.
She uses her deep knowledge of her talents as a linguist and translates her Dreamings onto canvas in a way that no other artist is able to achieve. Her paintings have many small details in them that tell a story as a whole. The story that she writes for the paintings is as fascinating as the painting itself. These stories tell of the mythology and religion of her people in a way that any outsider can understand and learn from.
Janet Long Nakamarra is very much a mentor for Sabine Haider from Central Art and shares a close relationship , especially on the issues of exploitation of Aboriginal artists.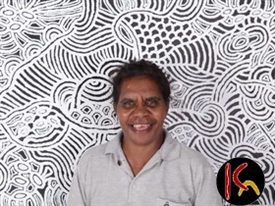 + Read more about artist
Aboriginal Symbols Depicted
See more infomation on symbols in the library


© Central art - aboriginal art store
Certificate of Provenance
An Australian Aboriginal artwork should always be issued with a Certificate of Provenance, also known as a Certificate of Authenticity. This document contains vital information on the artist, as well as details about the artwork itself. When selling on an artwork, please ensure that this document is passed on. Authenticity of Provenance means that the origin or authorship of a work of art has been correctly identified.
Central Art follows a well defined provenance and authenticity process to ensure that we are an exemplar in our business practice . Careful and detailed documentation follows - each work is given a catalogue number, inscribed on the back of the artwork with the Central Art stamped logo, the artist's signature and the title of the work.
+ Read more about certificate

Related Aboriginal Artwork
TITLE: Ngapa (Water Dreaming)

ID: 0608474
Medium: Acrylic on Belgian Linen
Size: 127 x 112 cm
Region: Wirliyatjarrayi, Northern Territory
Artist: Janet Long Nakamarra

View

TITLE: Yawulyu

ID: 10032096
Medium: Acrylic on Canvas
Size: 90 x 70 cm
Region: Wirliyatjarrayi, Northern Territory
Artist: Janet Long Nakamarra

View

TITLE: Bandicoot Dreaming

ID: 10032097
Medium: Acrylic on Canvas
Size: 147 x 69 cm
Region: Wirliyatjarrayi, Northern Territory
Artist: Janet Long Nakamarra

View
View
View more artworks by this artist
Aboriginal Culture Articles
of interest
Related Search Tags