Yam leaves
by Jeannie Petyarre
This artwork represents leaves from the Pencil yam plant, as well as the seasonal transition changes. Aboriginal women use their digging stick to gather the edible white root, which is a principal food source (bush tucker) for Aboriginal people
from Utopia in Central Australia.
The women honour the spirit of the yam plant during Awelye.
Artist
Jeannie Petyarre was born in the early c.1950 at Boundry Bore, an outstation at Utopia station, east of Alice Springs in central Australia. . Jeannie is a niece of the great Emily Kame Kngwarreye, sister of Rosemary Petyarre and half sister of Evelyn Pultara (2005 Telstra Award winner) and Greeny Purvis Petyarre, who passed away in 2010.
Jeannie is associated with many other family member, which are also know artists, such as Petyarre sisters Gloria, Kathleen and Ada Bird Petyarre (passed away 2010).
In 1988, Jeannie Petyarre was part of the group who produced Batik work using desert design on silk and cotton. Jeannie was encouraged by her aunt, the famous Emily Kngwarreye to continue to paint her family's Yam Dreaming.
Jeannie's work tends to revolve around representations of leaves collected around her country and used for a variety of medicinal purposes. In particular, she returns again and again to "Bush Yam Leaves" and Bush Medicine", both of which themes show flowing representations of the leaves. Typical of Utopian artists, Jeannie rejoices in the use of colour.
Central Art is proud to have such a beautiful collection of her works and included two outstanding works in their " Tradition to Modernity" exhibition 2010. An example of her talent and composition of colour is the artwork she in standing in front of (biography image).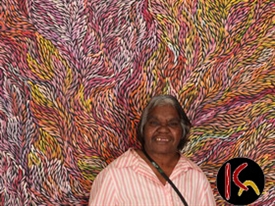 + Read more about artist
Certificate of Provenance
An Australian Aboriginal artwork should always be issued with a Certificate of Provenance, also known as a Certificate of Authenticity. This document contains vital information on the artist, as well as details about the artwork itself. When selling on an artwork, please ensure that this document is passed on. Authenticity of Provenance means that the origin or authorship of a work of art has been correctly identified.
Central Art follows a well defined provenance and authenticity process to ensure that we are an exemplar in our business practice . Careful and detailed documentation follows - each work is given a catalogue number, inscribed on the back of the artwork with the Central Art stamped logo, the artist's signature and the title of the work.
+ Read more about certificate

Related Aboriginal Artwork
TITLE: Yam

ID: 10012033
Medium: Acrylic on Canvas
Size: 147 x 86 cm
Region: Utopia, Central Australia
Artist: Jeannie Petyarre

View

Sale

TITLE: Bush Yam Leaves

ID: 09122032
Medium: Acrylic on Canvas
Size: 150 x 137 cm
Region: Utopia, Central Australia
Artist: Jeannie Petyarre

View

TITLE: Yam Leaves

ID: 0708743
Medium: Acrylic on Canvas
Size: 236 x 147 cm
Region: Utopia, Central Australia
Artist: Jeannie Petyarre

View
View
View more artworks by this artist
Related Search Tags