Womens Dreaming
by Judy Watson Napangardi
The characteristics depicted in this work are associated with Mina Mina country and Yingipurlangu, the artist's homeland on the border of the Tanami and Gibson Deserts in central Australia.
The depictions recounts Judy's journey when she and other Warlpiri women walked on foot for long periods at a time gathering Bush tucker, such as
wanakijii , yakajiri and Wardapi
Mina Mina country is a place significant to Napangardi and Napanangka women who are the custodians of this Dreaming.
Yuendumu Aboriginal Art: Aboriginal Paintings from the Central DesertAboriginal FoodAboriginal Women
Artist
Judy Watson Napangardi was born in approximately 1925 at Yarungkanji (Mount Doreen Station) in the area of Yuendumu Community in Central Australia. It was during this time that many Warlpiri and other Central and Western Desert Aboriginal people were still living a traditional lifestyle which involved extensive travel through the desert. Her family including Judy would make many trips on foot through her traditional country on the border of the Tanami and Gibson Deserts. Her traditional country is at Mina Mina and it is through her art that she is able to share the traditional Dreaming stories associated with that country.
Judy began painting in the 1980's and was taught painting skills and techniques by her sister, Maggie Watson Napangardi. She commenced painting for Warlukurlangu Artists, the art centre based in Yuendumu Community in 1986. Throughout her time there she has been an active member of the enterprise and has had a wonderful artistic career which has lead to her being considered one of the most highly collectable aboriginal artists.
The Dreaming stories associated with the country of Mina Mina include the Honey Ant, Women, Kanakurlangu (Digging Stick), Snake Vine, and Majardi (Hair String Belt), Judy is known to depict these traditional stories through her art. She is probably most well known for her paintings titled Mina Mina Dreaming or Women's Ceremony. Judy's artwork is easily recognisable through her use of vibrant colours and textured surfaces, along with highly detailed works with a high level of composition which are extremely abstract. She is considered to be a significant contributor to the Indigenous Australian contemporary art movement. She has received widespread appreciation for her paintings in the art world and this has led to critical acclaim.
The Australian Art Collector Magazine has listed Judy Watson Napangardi in the Top 50 Aboriginal Artists in multiple years; 1999, 2004, 2007 and in 2008. She is also rated by the Australian Indigenous Art Market as the 41th most collectable Aboriginal artist of all time. In 2006 she received further accolades by winning the Museum and Art Galleries Award in the 24th National Aboriginal and Torres Strait Islander Art Award for her "A Preponderance of Aboriginal Blood" an artwork on paper.
Both private and public collectors from around Australia and overseas have ensured that Judy's artworks are included in their collections. Several highly respected museums in Australia have collected her paintings as well. She has been involved in countless group exhibitions since the late 1980's around Australia and worldwide as well has held several solo exhibitions.
I (Sabine Haider, Director Central Art) have always been fascinated by her artworks; having met Judy in 2007 I was blown away by the vibrancy of her paintings. Now an old lady of almost 90 she is no longer painting, her artworks are highly collectable. I would recommend anyone considering an investment piece to buy her paintings now, as they will only appreciate in value. Central Art has several of her stunning paintings available in a variety of sizes and colours. The paintings titled "Women's Ceremony" or "Women's Dreaming" are characterised by stories associated with Mina Mina Country. Through her paintings Judy recounts her journeys through the land when she and other Warlpiri women walked on foot for long periods of time gathering bush tucker such as Wanankijii, Yakajiri and Wardapi. Mina Mina country is a significant place for Napangardi and Napanangka women who are custodians of the Dreamings associated with the land.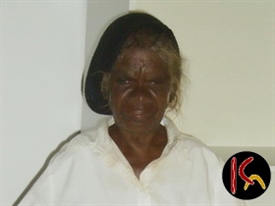 + Read more about artist
Certificate of Provenance
An Australian Aboriginal artwork should always be issued with a Certificate of Provenance, also known as a Certificate of Authenticity. This document contains vital information on the artist, as well as details about the artwork itself. When selling on an artwork, please ensure that this document is passed on. Authenticity of Provenance means that the origin or authorship of a work of art has been correctly identified.
Central Art follows a well defined provenance and authenticity process to ensure that we are an exemplar in our business practice . Careful and detailed documentation follows - each work is given a catalogue number, inscribed on the back of the artwork with the Central Art stamped logo, the artist's signature and the title of the work.
+ Read more about certificate

Related Aboriginal Artwork
TITLE: Womens Dreaming

ID: 0710768
Medium: Acrylic on Belgian Linen
Size: 180 x 31 cm
Region: Yuendumu, Central Australia
Artist: Judy Watson Napangardi

View

TITLE: My Country

ID: 10102267
Medium: Acrylic on Belgian Linen
Size: 113 x 85 cm
Region: Utopia, Central Australia
Artist: Kudditji Kngwarreye

View

TITLE: Bush Plum

ID: 031129
Medium: Acrylic on Canvas
Size: 145 x 430 cm
Region: Utopia, Central Australia
Artist: Glady Kemarre

View
View
View more artworks by this artist
Aboriginal Culture Articles
of interest
Related Search Tags