Yalke
by June Smith
This beautiful artwork represents Yalke (wild bush onion). The description below is from the artist.
This is the story about my grandmother's country where the Yalke are growing. Yalke is my totem, she gave me that when I was a small baby. My grandmother would sit on the ground and draw all the stories in the sand for me. This artwork shows you the country that we walk in when we are going to find Yalke for bush foods. The country there the Yalke is, is near the desert, with the sand hills and spinifex grass, and dry creeks where the rocks are. The Yalke is a bush onion, and it is little, growing in clumps all together, sitting in the earth. When we cook it we put them in hot ashes from the fire and then peel the skin of the onion and eat its white flesh.
Artist
June Smith was born in 1960 in Alice Springs and later moved to the mission outstation of Ltyentye Apurte (Santa Teresa) in central Australia.
June Smith was one of the first women to paint for the Keringke Arts Centre at Santa Teresa, often travelling to various art and craft shows to Sydney Show grounds and also New Zealand.
June paints on a variety of mediums including silk, paper, boxes, pottery bowls, wooden frames and canvas. Her artworks capture her imagination often reflecting on elements based on her homeland and eastern Arrernte culture. (these elements may include dreaming sites, tracks, spirituality, landscape forms and patterns).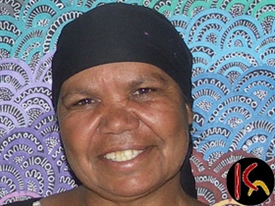 + Read more about artist
Certificate of Provenance
An Australian Aboriginal artwork should always be issued with a Certificate of Provenance, also known as a Certificate of Authenticity. This document contains vital information on the artist, as well as details about the artwork itself. When selling on an artwork, please ensure that this document is passed on. Authenticity of Provenance means that the origin or authorship of a work of art has been correctly identified.
Central Art follows a well defined provenance and authenticity process to ensure that we are an exemplar in our business practice . Careful and detailed documentation follows - each work is given a catalogue number, inscribed on the back of the artwork with the Central Art stamped logo, the artist's signature and the title of the work.
+ Read more about certificate

Related Aboriginal Artwork
TITLE: Untitled

ID: 09051574
Medium: Acrylic on Canvas
Size: 74 x 45 cm
Region: Ltyentye Apurte, Central Australia
Artist: June Smith

View

TITLE: Yalke

ID: 12062478
Medium: Acrylic on Belgian Linen
Size: 127 x 71 cm
Region: Ltyentye Apurte, Central Australia
Artist: June Smith

View

TITLE: Yalke

ID: 11102383
Medium: Acrylic on Belgian Linen
Size: 61 x 46 cm
Region: Ltyentye Apurte, Central Australia
Artist: June Smith

View
View
View more artworks by this artist
Related Search Tags