Yalke
by June Smith
This beautiful artwork represents Yalke (wild bush onion). The description below is from the artist.
This is the story about my grandmother's country where the Yalke are growing. Yalke is my totem, she gave me that when I was a small baby. My grandmother would sit on the ground and draw all the stories in the sand for me. This artwork shows you the country that we walk in when we are going to find Yalke for bush foods. The country there the Yalke is, is near the desert, with the sand hills and spinifex grass, and dry creeks where the rocks are. The Yalke is a bush onion, and it is little, growing in clumps all together, sitting in the earth. When we cook it we put them in hot ashes from the fire and then peel the skin of the onion and eat its white flesh.
Artist
June Smith Pengarte was born on 3rd December 1960 and is from Santa Teresa Community (Ltyentye Apurte) in Central Australia. Her family are from the greater area of Alice Springs and surrounding communities. June spent a great deal of her younger days living in Alice Springs and attended school there.
June was one of the first women to begin to paint for Keringke Arts Centre at Santa Teresa in the late 1980's. She was amongst the women who initially advocated for a place for women to be able to work on their art. Keringke Art Centre was built in 1989. June has played a significant role in mentoring younger artists, supporting the other women and has also held the Chair position for a number of terms. She is strongly involved in her community and is a respected and strong mother and grandmother to her family. She is seen as the pillar of strength and stability within her family, the art centre and the community.
Her artworks are a source of strength for her and she uses patterns, colour and shape to create vibrant works of art that share her sense of self, culture, community and country. Her paintings are consistent with what has been termed the "Keringke style", paintings that have intricate details, bright colours and fine line and dot work. The symbols and shapes used in the paintings are common features of ancient rock art and traditional iconography found throughout Eastern Arrente country.
I (Sabine Haider, Director, Central Art) have had the privilege of working with June since 2008. Her paintings are always bright and colourful and her black and white series contrast beautifully. She is one of Central Art's more popular artists. Her paintings titled "Yalke" depict the wild bush onion on her grandmother's country. The Bush Onion is June's totems and it was bestrode upon her as a small baby by her grandmother who was responsible for the Dreaming. June shares that her grandmother would often sit on the ground and draw stories of her culture and traditions in the sand and she remembers this fondly. The paintings show the viewer the country that Eastern Arrente people and in particular women walk through when looking for Yalke and other bush tucker. When cooking the Yalke they are put with hot ashes from the fire. The skin is then peeled and you are able to eat the white flesh underneath.
June also has paintings simply titled "Untitled", these paintings demonstrate the significant elements which are connected spiritually to the Eastern Arrente people and their culture in particular for June. It relates specifically to Ltyentye Apurte country.
In 2007 June held her first solo exhibition with Gecko Gallery in Broome. She participates in multiple group exhibitions annually and has done so since approximately 1990. In 2001 she was a finalist in the 18th annual National Aboriginal and Torres Strait Islander Art Award; this is Australia's premier art award and is a credit to her paintings, style and commitment to her artwork. She was also a selected entrant in both 1998 and 1999. June's paintings are also held in several art collections in Australia and the USA. June Smith Pengarte is certainly an artist worth considering, her paintings are affordable, her talent in clear and been recognised. She had been commissioned to create several artworks and silk hanging as well as in 2005 commissioned to design the new carpet for the Alice Springs Airport with Ulster Carpets. Her artworks have also been reproduced in ties, scarfs, journals and silk hanging. Central Art is looking forward to continuing our relationship with June.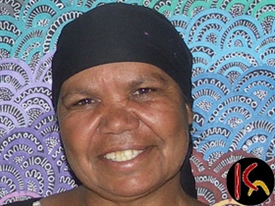 + Read more about artist
Certificate of Provenance
An Australian Aboriginal artwork should always be issued with a Certificate of Provenance, also known as a Certificate of Authenticity. This document contains vital information on the artist, as well as details about the artwork itself. When selling on an artwork, please ensure that this document is passed on. Authenticity of Provenance means that the origin or authorship of a work of art has been correctly identified.
Central Art follows a well defined provenance and authenticity process to ensure that we are an exemplar in our business practice . Careful and detailed documentation follows - each work is given a catalogue number, inscribed on the back of the artwork with the Central Art stamped logo, the artist's signature and the title of the work.
+ Read more about certificate

Related Aboriginal Artwork
TITLE: Yalke

ID: 12062478
Medium: Acrylic on Belgian Linen
Size: 127 x 71 cm
Region: Ltyentye Apurte, Central Australia
Artist: June Smith

View

Sale

TITLE: Wild Bush Yam Dreaming

ID: 0851138
Medium: Acrylic on Belgian Linen
Size: 191 x 124 cm
Region: Santa Teresa, Central Australia
Artist: Colleen Wallace Nungari

View

Sale

TITLE: Tingari Cycle

ID: 0891247
Medium: Acrylic on Belgian Linen
Size: 150 x 60 cm
Region: Walungurru, Western Desert
Artist: Ronnie Tjampitjinpa

View
View
View more artworks by this artist
Related Search Tags