My Country
by Kudditji Kngwarreye
This magnificent artwork refers to Kudditji Kngwarreye's ancestral country
of Utopia in central Australia. It also interprets men's ceremonial sites and Emu Dreaming.
Kudditji is a traditional custodian of this country including Emu Dreaming and is the younger brother of the renowned artist Emily Kame Kngwarreye.
Artist
Kudditji Kngwarreye, was born circa 1928 at Boundary Bore, Utopia, north-east of Alice Springs. An Anmatyerre elder actively painted since 1986, he is the younger brother of the late Emily Kame Kngwarreye.
In the mid 1990's Kudditji took a radical path with his painting style moving away from the common pointillist style. Whilst some of these paintings may well be reminiscent of his famous sister Emily's astonishing works from her last series, Kudditji is quick to point out that he was independently painting such works himself! Using a heavily loaded brush and an usually brighter palette.
Kudditji's forms sweep broadly across the canvas. With progressive blocks of stippled colour sectioned alongside each other, the artist has uniquely managed to create a remarkable sense of space. His most recent paintings amplify a bold architectural style, fusing the borders of earth, water and sky, resulting in a dramatic re staging of the colour and form of the desert landscape. His subjects are mostly powerful and bright expressions of Emu Dreaming and Men's Ceremonial Dreamings.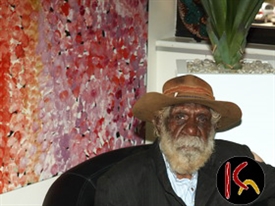 + Read more about artist
Certificate of Provenance
An Australian Aboriginal artwork should always be issued with a Certificate of Provenance, also known as a Certificate of Authenticity. This document contains vital information on the artist, as well as details about the artwork itself. When selling on an artwork, please ensure that this document is passed on. Authenticity of Provenance means that the origin or authorship of a work of art has been correctly identified.
Central Art follows a well defined provenance and authenticity process to ensure that we are an exemplar in our business practice . Careful and detailed documentation follows - each work is given a catalogue number, inscribed on the back of the artwork with the Central Art stamped logo, the artist's signature and the title of the work.
+ Read more about certificate

Related Aboriginal Artwork
New

TITLE: My Country

ID: 13122536
Medium: Acrylic on Belgian Linen
Size: 91 x 76 cm
Region: Utopia, Central Australia
Artist: Kudditji Kngwarreye

View

TITLE: My Country

ID: 08111377
Medium: Acrylic on Belgian Linen
Size: 40 x 30 cm
Region: Utopia, Central Australia
Artist: Kudditji Kngwarreye

View

TITLE: My Country

ID: 0841068
Medium: Acrylic on Belgian Linen
Size: 101 x 43 cm
Region: Utopia, Central Australia
Artist: Kudditji Kngwarreye

View
View
View more artworks by this artist
Aboriginal Culture Articles
of interest