My Country
by Kudditji Kngwarreye
This magnificent artwork refers to Kudditji Kngwarreye's ancestral country of Utopia in central Australia. It also interprets men's ceremonial sites and Emu Dreaming.    Kudditji is a traditional custodian of this country including Emu Dreaming and is the younger brother of the renowned artist Emily Kame Kngwarreye.
Artist
Kudditji Kngwarreye is the youngest half brother to the most famous and highly collectable artist Emily Kame Kngwarreye (who sadly passed away in 1996). Kudditji was born in approximately 1928 and comes from Boundary Bore in Utopia in Central Australia. He led a traditional lifestyle and upbringing in the Central Australian desert, learning his Dreamings and cultural responsibilities.
As a young man he worked as a stockman as did many Aboriginal men who lived on or near pastoral leases in Central Australia. An Anmatyerre man and highly respected elder Kudditji would often take young boys and men hunting emu and merging traditional hunting skills as part of their initiation as men. He began painting in 1986 and would sell his artwork to many local galleries in Alice Springs. Painting was not a career for him in the early days and it wasn't until the passing of his sister that he began to paint more frequently.  When he first began painting his style was consistent with the times and he would paint detailed artworks depicting Emu Dreaming and Men's Ceremonial Dreamings. These paintings featured ranks of coloured roundels and other traditional iconography on a chequered or dotted background. From 1990 his paintings took a somewhat radical style using more abstract imagery and bold colours. Initially these were not well received by galleries however Kudditji persevered and eventually received recognition for this new style of painting. He uses a heavily loaded brush and a usually bright palette of colour. The paint sweeps broadly across the canvas with progressive blocks of stippled colour. Kudditji's paintings reflect a style he has become well known for since 2003 when he began to explore the "dump dot" technique made famous by his sister, Emily Kame Kngwarreye.
Kudditji is considered in the top 200 most collectable Aboriginal artists of all time, as rated by Australian Indigenous Art Market, sitting at 145th. Given his age it is remarkable he is still able to produce such incredible artworks which merge the earth, water and sky together to form a simplistic desert landscape.
As the custodian for ceremonial sites located in his country around Utopia many of his paintings refer to these sacred sites where men's ceremonies including initiation ceremonies take place.
I (Sabine Haider, Director Central Art) have thoroughly enjoyed my time working with Kudditji having first met him in 2008. His paintings are bold and colourful and I am in awe of his ability to create such meaning through his paintings. Central Art is pleased to hold such a large and varied collection of his paintings.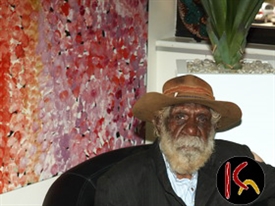 + Read more about artist
Why Sabine likes this
If I have ever known an Australian Aboriginal Artist to blend his colours, its Kudditji Kngwarreye.

Talk to Sabine about this artwork
+ Read more
Certificate of Provenance
An Australian Aboriginal artwork should always be issued with a Certificate of Provenance, also known as a Certificate of Authenticity. This document contains vital information on the artist, as well as details about the artwork itself. When selling on an artwork, please ensure that this document is passed on. Authenticity of Provenance means that the origin or authorship of a work of art has been correctly identified.
Central Art follows a well defined provenance and authenticity process to ensure that we are an exemplar in our business practice . Careful and detailed documentation follows - each work is given a catalogue number, inscribed on the back of the artwork with the Central Art stamped logo, the artist's signature and the title of the work.
+ Read more about certificate

Related Aboriginal Artwork
TITLE: My Country

ID: 0803994
Medium: Acrylic on Belgian Linen
Size: 152 x 151 cm
Region: Utopia, Central Australia
Artist: Kudditji Kngwarreye

View

TITLE: My Country

ID: 08121429
Medium: Acrylic on Belgian Linen
Size: 40 x 30 cm
Region: Utopia, Central Australia
Artist: Kudditji Kngwarreye

View

TITLE: My Country

ID: 10102267
Medium: Acrylic on Belgian Linen
Size: 113 x 85 cm
Region: Utopia, Central Australia
Artist: Kudditji Kngwarreye

View
View
View more artworks by this artist
Aboriginal Culture Articles
of interest
Related Search Tags