Tali
by Lily Kelly Napangardi
This stunning artwork depicts sand hills around Watiyawanu, the artists country in Central Australia.  Illustrated through fine dots and subtle dashes, it conveys the moving force of wind and rain that has effect upon the sand hills and its surroundings. The design represents an almost three-dimensional illusion of space and depth.
Artist
Lily Kelly Napangardi was born in c.1948 in the Haasts Bluff region in central Australia. Lily is a distinguished Aboriginal artist
In her earlier years, Lily lived with her family at the settlement of Papunya, but later moved to Watiyawanu (Mount Liebig - 325 km west of Alice Springs) . Lily is a respected senior law woman of her community of Watiyawanu, and the custodian over the Women's Dreamtime stories associated with Kunajarrayi.
Lily Kelly Napangardi began painting in the early 1980s. She won the Northern Territory Art Award for Excellence in Aboriginal Painting in 1986 and was a finalist in the Telstra National Aboriginal and Torres Strait Islander Art Award (NATSIAA) in 2003. In January 2006, she was named as one of Australia's 50 most collectable artists by Australian Art Collector magazine.
Lily Kelly Napangardi's works are of her country, especially of the sand hills (Tali) around Mount Liebig. They are usually done in white (sometimes, red or yellow) dots on black background, presenting an almost three-dimensional illusion of space and depth.
Some rarer examples of her work are painted in two colours (mainly white and red) on black background. Today Lily Kelly Napangardi's art is recognised as some of the most innovative in the contemporary Aboriginal art scene.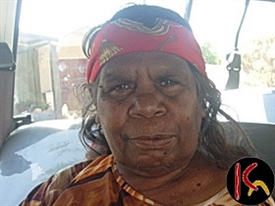 + Read more about artist
Certificate of Provenance
An Australian Aboriginal artwork should always be issued with a Certificate of Provenance, also known as a Certificate of Authenticity. This document contains vital information on the artist, as well as details about the artwork itself. When selling on an artwork, please ensure that this document is passed on. Authenticity of Provenance means that the origin or authorship of a work of art has been correctly identified.
Central Art follows a well defined provenance and authenticity process to ensure that we are an exemplar in our business practice . Careful and detailed documentation follows - each work is given a catalogue number, inscribed on the back of the artwork with the Central Art stamped logo, the artist's signature and the title of the work.
+ Read more about certificate

Related Aboriginal Artwork
Sale

TITLE: Tali

ID: A14501
Medium: Acrylic on Belgian Linen
Size: 150 x 150 cm
Region: Amunturngu, Central Australia
Artist: Lily Kelly Napangardi

View

Sale

TITLE: Tali

ID: A11468
Medium: Acrylic on Belgian Linen
Size: 122 x 221 cm
Region: Amunturngu, Central Australia
Artist: Lily Kelly Napangardi

View

Sale

TITLE: Tali

ID: A10683
Medium: Acrylic on Belgian Linen
Size: 122 x 220 cm
Region: Amunturngu, Central Australia
Artist: Lily Kelly Napangardi

View
View
View more artworks by this artist
Aboriginal Culture Articles
of interest
Related Search Tags