Uwalki
by Mitjili Napurrula
The painting depicts three significant elements referring to Uwalki country - Mitjili's father and brother - the renowned Turkey Tolson's (passed away) homeland around Ikuntji (Haasts Bluff), west of Alice Springs in Central Australia.
Illustrated depictions are:
The Aboriginal men use the wood from Watiya Tjuta (trees) to hand carve spears, artefacts and ceremonial objects associated with men's business.
Artist
Born at Haasts Bluff, Mitjili is the daughter of Tupa Tjakamarra (now deceased) and Tjunkiya Napaltjarri. In 1959 Mitjili and her family moved from Haasts Bluff to the new settlement of Papunya. It was here that she observed the men, including her brother Turkey Tolson Tjupurrula (deceased) paint.
Initially, Mitjili's paintings followed the style of the artists from Papunya. On returning to Haasts Bluff she commenced painting in 1992 for the Ikuntji Women's Centre. She soon developed her own style drawing on her father's Dreaming Uwalki, which is the story of the spear straightening ceremony taught to Mitjili by her mother.
Mitjili's distinctive style is based on her father's country, also called Uwalki, an area west of Haasts Bluff near the Kintore Ranges in central Australia. . Characterised by red sand-hills, bushes and trees it is here that the spearwood trees used to make spears, are found.
As custodian of the Kulata Tjurrkupa (Spear Dreaming) and representing the female side of the Dreaming, Mitjili depicts the trees (Watiya Tjuta) which provide the wood for the spears, whilst her brother is well known for painting the stories associated with making and assembling the spears. Mitjili husband Long Tom Tjapanangka (passed away) was also an accomplished artist.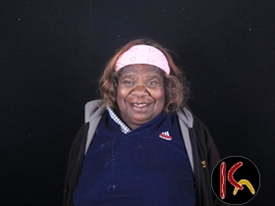 + Read more about artist
Certificate of Provenance
An Australian Aboriginal artwork should always be issued with a Certificate of Provenance, also known as a Certificate of Authenticity. This document contains vital information on the artist, as well as details about the artwork itself. When selling on an artwork, please ensure that this document is passed on. Authenticity of Provenance means that the origin or authorship of a work of art has been correctly identified.
Central Art follows a well defined provenance and authenticity process to ensure that we are an exemplar in our business practice . Careful and detailed documentation follows - each work is given a catalogue number, inscribed on the back of the artwork with the Central Art stamped logo, the artist's signature and the title of the work.
+ Read more about certificate

Related Aboriginal Artwork
TITLE: Watiya Tjuta

ID: 0410195
Medium: Acrylic on Belgian Linen
Size: 123 x 62 cm
Region: Ikuntji, Central Australia
Artist: Mitjili Napurrula

View

TITLE: Womens Ceremony

ID: 0712880
Medium: Acrylic on Belgian Linen
Size: 147 x 58 cm
Region: Kintore, Western Desert
Artist: Pantjiya Nungurrayi

View

Sale

TITLE: Tingari Cycle

ID: 0891247
Medium: Acrylic on Belgian Linen
Size: 150 x 60 cm
Region: Walungurru, Western Desert
Artist: Ronnie Tjampitjinpa

View
View
View more artworks by this artist
Aboriginal Culture Articles
of interest
Related Search Tags