Awelye
by Polly Nelson Nungala
The painting depicts Awelye, body paint design. The aboriginal women from Utopia in Central Australia anoint their upper body with oil, then apply ochre markings, before performing their ceremony.
Video of Aboriginal Women applying body paint design
Artist
Polly was born around 1940 at Utopia, north east of Alice Springs in central Australia.
Polly's sister, Lena Skinner Ngal, and brother, Johnny Skinner, are also known artists.
Polly's artwork depiction are of the Bush Plum, an significant 'Dreaming' to whose who have rights to paint the stories.
Another significant depiction of the artist is Awelye, ochre designs painted onto women's bodies during their traditional ceremonies.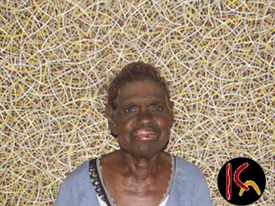 + Read more about artist
Certificate of Provenance
An Australian Aboriginal artwork should always be issued with a Certificate of Provenance, also known as a Certificate of Authenticity. This document contains vital information on the artist, as well as details about the artwork itself. When selling on an artwork, please ensure that this document is passed on. Authenticity of Provenance means that the origin or authorship of a work of art has been correctly identified.
Central Art follows a well defined provenance and authenticity process to ensure that we are an exemplar in our business practice . Careful and detailed documentation follows - each work is given a catalogue number, inscribed on the back of the artwork with the Central Art stamped logo, the artist's signature and the title of the work.
+ Read more about certificate

Related Aboriginal Artwork
Sale

TITLE: Tingari Cycle

ID: 0891247
Medium: Acrylic on Belgian Linen
Size: 150 x 60 cm
Region: Walungurru, Western Desert
Artist: Ronnie Tjampitjinpa

View

TITLE: Womens Ceremony

ID: 0712880
Medium: Acrylic on Belgian Linen
Size: 147 x 58 cm
Region: Kintore, Western Desert
Artist: Pantjiya Nungurrayi

View

Sale

TITLE: Womens Ceremony

ID: 09041567
Medium: Acrylic on Belgian Linen
Size: 31 x 92 cm
Region: Kintore, Western Desert
Artist: Ningura Napurrula

View
View
View more artworks by this artist
Aboriginal Culture Articles
of interest
Related Search Tags