Fire
by Tarisse King
Like her father William King, Tarisse paints a Fire series, where she employs intense reds and yellows. Tarisse's father had told her that fire was an element that connected her to her ancestors and in turn her ancestors to the earth. The heat of the fire can be felt in these artworks and it is this feeling of warmth that her father said would be the same sensation her ancestors had experienced thousands of years ago.
Artist
Tarisse King was born in Adelaide, South Australia on the 4th September, 1986. She is the older sister to fellow artist, Sarrita King and daughter to the late highly regarded artist, William King Jungala (1966 – 2007).
Tarisse inherits her Australian Aboriginality from her father who was part of the Gurindji clan from the Northern Territory. The Gurindji clan came to public attention during the 1960s and 1970s when members employed by the Wave Hill cattle station led a landmark case which became the first successful land rights claim in Australia. Like her forefathers, Tarisse is an assertive individual who is determined to communicate the inseparable connection she and her ancestors have with the Australian land.
Tarisse spent the majority of her youth in Darwin, a unique city in northern Australia that is subject to extreme weather conditions; from torrential rain and cyclones in the Wet Season to oppressive and immobilising heat in the Dry Season. This climatic impact is seen in her artwork but it was also the road trips she travelled between Darwin, Katherine and Adelaide, where her father resided, that she reflects on most in her paintings. The journey of 3027 kilometres, right through the heart of Australia, reveals extreme expanses of varying landscapes and provided Tarisse with the isolation and time to develop a unique perception of the land which can be seen in her paintings such as Pink Salts and My Country – Tracks and Rivers.
Moving to Adelaide at the age of 16, it was her involvement with her father's art that lead Tarisse to experiment with her own designs and techniques, resulting in a definable style of her own. Drawing on the Central and Western Desert Aboriginal dotting style of painting the land topographically, Tarisse captures a complex and varied soul of the land.
In homage to her father, her adaptation of Earth Images defines Australia as if looking from outer space back to land; the viewer is given a heightened feeling of drifting above the earth. Then, in her series, My Country Tarisse composes 40,000 year old Aboriginal iconography of song lines, dots and circles to create a bold and contemporary aesthetic and provides yet another more detailed perspective of the landscape. Finally, Pink Salts, lowers the viewer back down the earth and immerses one in the surreal and luminous pink sunsets over the great salt lakes in the centre of Australia. In all of Tarisse's artworks, she con temporises the ancient and allows the present day viewer an accessible moment to consider the past.
Tarisse continues to live in Adelaide and paints in a shared studio with her sister. At the age of 23, she is a full time artist. She has been included in over 20 exhibitions, is represented in galleries in every Australian state, included in many high profile Australian and international art collections, been auctioned successfully through Paris' Art Curial and is about to embark on a European exhibition tour in 2010. With so many accolades to her name at such a young age, Tarisse's potential to build on an already outstanding career is more than promising.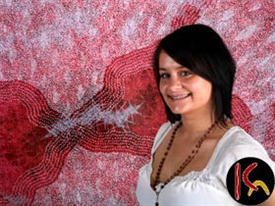 + Read more about artist
Certificate of Provenance
An Australian Aboriginal artwork should always be issued with a Certificate of Provenance, also known as a Certificate of Authenticity. This document contains vital information on the artist, as well as details about the artwork itself. When selling on an artwork, please ensure that this document is passed on. Authenticity of Provenance means that the origin or authorship of a work of art has been correctly identified.
Central Art follows a well defined provenance and authenticity process to ensure that we are an exemplar in our business practice . Careful and detailed documentation follows - each work is given a catalogue number, inscribed on the back of the artwork with the Central Art stamped logo, the artist's signature and the title of the work.
+ Read more about certificate

Related Aboriginal Artwork
Sale

TITLE: Wild Bush Yam Dreaming

ID: 0851138
Medium: Acrylic on Belgian Linen
Size: 191 x 124 cm
Region: Santa Teresa, Central Australia
Artist: Colleen Wallace Nungari

View

TITLE: Awelye (Body Paint)

ID: 031135
Medium: Acrylic on Belgian Linen
Size: 178 x 120 cm
Region: Utopia, Central Australia
Artist: Ada Bird Petyarre

View

TITLE: Bush Plum

ID: 031129
Medium: Acrylic on Canvas
Size: 145 x 430 cm
Region: Utopia, Central Australia
Artist: Glady Kemarre

View
View
View more artworks by this artist
Aboriginal Culture Articles
of interest
Related Search Tags