Grandmothers Country
by Teresa Purla
The painting refers to the artists grandmother, the late Minnie Pwerle and her beloved country of Antwengerrp, Utopia in Central Australia.
The dots represents the dancing tracks, which are imprinted in the sand by the women during Awelye ceremony.
Awelye (Womens Ceremony) ArtAboriginal WomenUtopia Aboriginal Art: Aboriginal Paintings from the Central Desert
Video Yuendumu women dancing during ceremony
Artist
Teresa McKeeman Purla was born on the 5th of August 1963 in Darwin, Northern Territory.
Growing up, the indigenous artist Teresa McKeeman Purla had often watched her mother the artist Barbara Weir, a great painter, well known in Australia and overseas and the most famous of all of the Aboriginal painters from Utopia, Emily Kngwarreye as they painted. And, one day in 1990 Barbara Weir said to her daughter: "Here's a canvas - paint".
From that day, Teresa began to learn about the dreamings of her people and how to preserve them with paint and canvas
"When I first came here [to Atnwengerrp] they took me to the tracks, just near my home," Teresa said. "This is what gives me the goose bumps. When Nanna Molly mob used to dance. You can actually see the prints where they used to dance in that spot. You can see their footprints. It's so beautiful." Teresa continues to paint the stories of her grandmothers and developed her own unique dotting style for it.
Her story is told in a brief essay by Elizabeth Fortescue in a 200 page illustrated publication called "Art of Utopia". In this publication Elizabeth tells the story of the artist and her family in short essays. It also shows a range of images of paintings by those artists. The book is supplied with each painting by Barbara Weir, Minnie, Galya, Emily and Molly Pwerle as well as Teresa Purla.
In 2008 the book Art of Utopia was published, illustrating side by side a wonderful series of works of Teresa's, her mother Barbara Weir, her grandmother Minnie Pwerle and aunts Gayla, Molly and Emily Pwerle.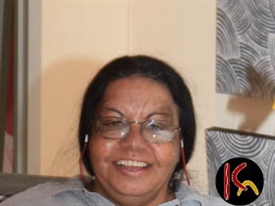 + Read more about artist
Certificate of Provenance
An Australian Aboriginal artwork should always be issued with a Certificate of Provenance, also known as a Certificate of Authenticity. This document contains vital information on the artist, as well as details about the artwork itself. When selling on an artwork, please ensure that this document is passed on. Authenticity of Provenance means that the origin or authorship of a work of art has been correctly identified.
Central Art follows a well defined provenance and authenticity process to ensure that we are an exemplar in our business practice . Careful and detailed documentation follows - each work is given a catalogue number, inscribed on the back of the artwork with the Central Art stamped logo, the artist's signature and the title of the work.
+ Read more about certificate

Related Aboriginal Artwork
TITLE: My Grandmothers Country

ID: 0871216
Medium: Acrylic on Belgian Linen
Size: 128 x 90 cm
Region: Utopia, Central Australia
Artist: Teresa Purla

View

TITLE: Grandmother's Country

ID: 0861141
Medium: Acrylic on Belgian Linen
Size: 91 x 128 cm
Region: Utopia, Central Australia
Artist: Teresa Purla

View

TITLE: My Grandmother's Country

ID: 0851099
Medium: Acrylic on Belgian Linen
Size: 123 x 91 cm
Region: Utopia, Central Australia
Artist: Teresa Purla

View
View
View more artworks by this artist
Aboriginal Culture Articles
of interest
Related Search Tags