Awelye
by Violet Petyarre
The paintings depicts Awelye, body paint design associated with Violet Petyarre's Dreaming , The Mountain Devil Lizard Ancestor (Arnkerrth ).
These Markings are applied onto her upper body, before she re-enacts her Dreaming with many songlines and dance cycles, allowing her to feel close with the spirit Arnkerrth (Mountain Devil Lizard).
The Mountain Devil Lizard, also known as the Thorny Devil Lizard has the ability to change to any colour when threatened.
Artist
Violet Petyarre was born c.1946 at Atnagkere Soakage at Utopia in central Australia.
Violet Petyarre is sister to artists Kathleen, Gloria, Ada Bird (passed away 2010), Nancy Kunoth (passed away 2010), Myrtle and Jean Petyarre.
Like her sisters, she was involved in the batik movement that established the women artists of Utopia. Her work is represented in the Holmes a Court collection.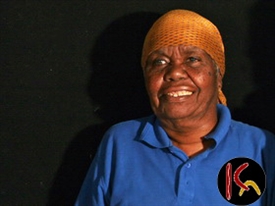 + Read more about artist
Certificate of Provenance
An Australian Aboriginal artwork should always be issued with a Certificate of Provenance, also known as a Certificate of Authenticity. This document contains vital information on the artist, as well as details about the artwork itself. When selling on an artwork, please ensure that this document is passed on. Authenticity of Provenance means that the origin or authorship of a work of art has been correctly identified.
Central Art follows a well defined provenance and authenticity process to ensure that we are an exemplar in our business practice . Careful and detailed documentation follows - each work is given a catalogue number, inscribed on the back of the artwork with the Central Art stamped logo, the artist's signature and the title of the work.
+ Read more about certificate

Related Aboriginal Artwork
TITLE: Arnkerrth (Mountain Devil Lizard)

ID: 0603434
Medium: Acrylic on Belgian Linen
Size: 203 x 108 cm
Region: Utopia, Central Australia
Artist: Violet Petyarre

View

TITLE: Awelye

ID: 0706660
Medium: Acrylic on Belgian Linen
Size: 98 x 122 cm
Region: Utopia, Central Australia
Artist: Violet Petyarre

View

TITLE: Awelye

ID: 0706661
Medium: Acrylic on Belgian Linen
Size: 95 x 99 cm
Region: Utopia, Central Australia
Artist: Violet Petyarre

View
View
View more artworks by this artist
Aboriginal Culture Articles
of interest
Related Search Tags