Tingari Cycle
by Walala Tjapaltjarri
The painting refers to the Tingari cycle , a series of sacred and secret mythological ceremonies describing the epic journeys of the ancestors in the Tjukurrpa
The events of the Tingari ancestors are enshrined in many song and dance cycles, sacred to the Pintupi people of the Western Desert.
Artist
Walala was born in the early 1960's in the Gibson Desert and as one of nine lived a nomadic life (including his brothers Warlimpirrnga and Thomas). They made history in October 1984 when they had first contact with 'the outside world and Europeans' for the first time.
Walala paints the Tingari Cycle, which is a series of sacred and secret song-lines. These Tingari are associated with his Dreaming sites at Marua, Mintarnpi, Wanapatangu, Minna Minna, Naami, Wilkinkarra (Lake Mackay) and Yarrawangu, which are all in the Gibson Desert, Western Australia.
These were some of the places where the Tingari Ancestors stopped for ceremonies during their travels across the country.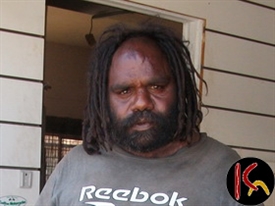 + Read more about artist
Certificate of Provenance
An Australian Aboriginal artwork should always be issued with a Certificate of Provenance, also known as a Certificate of Authenticity. This document contains vital information on the artist, as well as details about the artwork itself. When selling on an artwork, please ensure that this document is passed on. Authenticity of Provenance means that the origin or authorship of a work of art has been correctly identified.
Central Art follows a well defined provenance and authenticity process to ensure that we are an exemplar in our business practice . Careful and detailed documentation follows - each work is given a catalogue number, inscribed on the back of the artwork with the Central Art stamped logo, the artist's signature and the title of the work.
+ Read more about certificate

Related Aboriginal Artwork
TITLE: Tingari Cycle

ID: 08121451
Medium: Acrylic on Belgian Linen
Size: 40 x 30 cm
Region: Kiwirrkurra, Western Desert
Artist: Walala Tjapaltjarri

View

TITLE: Tingari Cycle

ID: 08111382
Medium: Acrylic on Belgian Linen
Size: 40 x 30 cm
Region: Kiwirrkurra, Western Desert
Artist: Walala Tjapaltjarri

View

TITLE: Tingari Cycle

ID: 08121449
Medium: Acrylic on Belgian Linen
Size: 40 x 30 cm
Region: Kiwirrkurra, Western Desert
Artist: Walala Tjapaltjarri

View
View
View more artworks by this artist
Aboriginal Culture Articles
of interest
Related Search Tags