Travels of Kutungka
by Walangkura Napanangka
The painting depicts rock holes and sand hills associated with the travels of Kutungka, an old women who walked through the area from Malparingya to Kaltarra in Western Desert during the Dreamtime creation.
Artist
Walangkura Napanangka was born C1940 in the bush at Tjiturulnga, west of Walungurru (Kintore) in the Gibson Desert, near the Western Australia/ Northern Territory border.
Her family were amongst a group of Pintupi people who made their way to the Ikuntji settlement (Haasts Bluff) in 1956. They walked hundreds of kilometres from west of the salt lake of Karrkurutinjinya (Lake Macdonald) to access the supplies of food and water on offer at the settlement. The family returned to their homelands community of Walungurru in 1981.
Walangkura lives with her husband, artist, Johnny Yungut Tjupurrula at Kintore. Her mother, Inyuwa Nampitjinpa and sister, Pirrmangka Napanangka, both deceased were also painters. Her father was Tutuma Tjapangati.  Walangkura began her painting career through participating in the historic Kintore-Haasts Bluff collaborative canvas project 'Minyma Tjukurrpa' in 1995. Her bold, strong and vibrant paintings recreate the creation stories and ceremonial sites associated with the Tjukurrpa of her Pintupi homelands.
Sabine Haider from Central Art says " its very sad and heart felt that Walangkura Napanangka has lost her sight and has not been able to paint any more."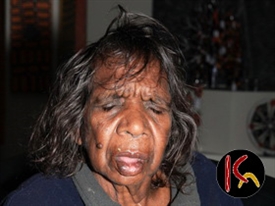 + Read more about artist
Aboriginal Symbols Depicted
See more infomation on symbols in the library


© Central art - aboriginal art store
Certificate of Provenance
An Australian Aboriginal artwork should always be issued with a Certificate of Provenance, also known as a Certificate of Authenticity. This document contains vital information on the artist, as well as details about the artwork itself. When selling on an artwork, please ensure that this document is passed on. Authenticity of Provenance means that the origin or authorship of a work of art has been correctly identified.
Central Art follows a well defined provenance and authenticity process to ensure that we are an exemplar in our business practice . Careful and detailed documentation follows - each work is given a catalogue number, inscribed on the back of the artwork with the Central Art stamped logo, the artist's signature and the title of the work.
+ Read more about certificate

Related Aboriginal Artwork
TITLE: Awelye (Womens Body Paint)

ID: 040577
Medium: Acrylic on Belgian Linen
Size: 129 x 177 cm
Region: Utopia, Central Australia
Artist: Myrtle Petyarre

View

TITLE: Bush Plum

ID: 040572
Medium: Acrylic on Belgian Linen
Size: 127 x 174 cm
Region: Utopia, Central Australia
Artist: Gracie Morton Pwerle

View

TITLE: Bush Turkey Dreaming

ID: 08121444
Medium: Acrylic on Belgian Linen
Size: 120 x 195 cm
Region: Utopia, Central Australia
Artist: Nancy Kunoth Petyarre

View
View
View more artworks by this artist
Aboriginal Culture Articles
of interest
Related Search Tags