Tingari Cycle
by Warlimpirrnga Tjapaltjarri
This iconic artwork represent the Tingari Cycle, which in Australian Aboriginal mythology embodies a vast network of Aboriginal Dreaming (tjukurpa) song lines that traverse the Western Desert region of Central Australia. Locations and events associated with the Tingari cycle are frequently the subject of Aboriginal Art from this region. The Tingari Men were a group of ancestral elders who in the Dreaming travelled over vast areas of the Western Desert, performing rituals and creating or "opening up" the country They were usually accompanied by recently-initiated novices to whom they provided instruction in the ritual and law of the region. The adventures of the Tingari groups are enshrined in numerous song-myth cycles. Deep knowledge of Tingari business is restricted to men possessing appropriate levels of seniority in Western Desert society, but many stories have "public versions" which do not disclose secret or sacred knowledge.
Like a map this artwork depicts the journey and sites the Tingari men would have visited during the Dream-time period.
Artist
Warlimpirrnga Tjapaltjarri was born c. 1958 east of Kirwirrkurra, Western Australia. Warlimpirrnga came to Kiwirrkurra with his family in 1984. This family group was considered to be one of the last Pintupi who made contact with modern Australia. His art is a very important testimony to the time-honored way of living and the beliefs that sustained the Aboriginal people for centuries.
Warlimpirrnga began painting for Papunya Tula Artists on canvas with acrylics only three years after emerging from his traditional country around Wilkinkarra (Lake Mackay).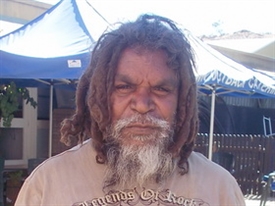 + Read more about artist
Aboriginal Symbols Depicted
See more infomation on symbols in the library


© Central art - aboriginal art store
Certificate of Provenance
An Australian Aboriginal artwork should always be issued with a Certificate of Provenance, also known as a Certificate of Authenticity. This document contains vital information on the artist, as well as details about the artwork itself. When selling on an artwork, please ensure that this document is passed on. Authenticity of Provenance means that the origin or authorship of a work of art has been correctly identified.
Central Art follows a well defined provenance and authenticity process to ensure that we are an exemplar in our business practice . Careful and detailed documentation follows - each work is given a catalogue number, inscribed on the back of the artwork with the Central Art stamped logo, the artist's signature and the title of the work.
+ Read more about certificate

Related Aboriginal Artwork
Sale

TITLE: Wild Bush Yam Dreaming

ID: 0851138
Medium: Acrylic on Belgian Linen
Size: 191 x 124 cm
Region: Santa Teresa, Central Australia
Artist: Colleen Wallace Nungari

View

TITLE: Awelye (Womens Body Paint)

ID: 040577
Medium: Acrylic on Belgian Linen
Size: 129 x 177 cm
Region: Utopia, Central Australia
Artist: Myrtle Petyarre

View

TITLE: Awelye (Body Paint)

ID: 031135
Medium: Acrylic on Belgian Linen
Size: 178 x 120 cm
Region: Utopia, Central Australia
Artist: Ada Bird Petyarre

View
View
View more artworks by this artist
Aboriginal Culture Articles
of interest
Related Search Tags